We Are Wibble. Refresh: Part 3 – Expanding the Brand
** Part One of this series: We Are Wibble. Refresh: Part 1 – Wibble's Identity. Part Two available here: We Are Wibble. Refresh: Part 2 – The Wibble Website **
Over the past few months, you have gathered here to hear the musing of I, Dean Anthony the digital designer at Wibble to discuss the process of refreshing We Are Wibble. Part 1 covered the Brand Refresh and the Wibble Identity, and in Part 2 it was the turn of the full website redesign.
Part 3, will look at how we've implemented the Wibble Refresh with our internal and external documents, our social media, and those important business cards. I will also cover our exciting office move and what our plans are for this space.
Contracts, Proposal documents, and business cards. Oh my!
What started as a "simple" task of rebranding and the entire company had to trickle down into all the corporate documents. The brand needed to be apart of all aspects of the business.
Once the branding and the website were created the Wibble internal documents required some attention. All of our documents were rocking the old branding. This needed to change.
Proposal Document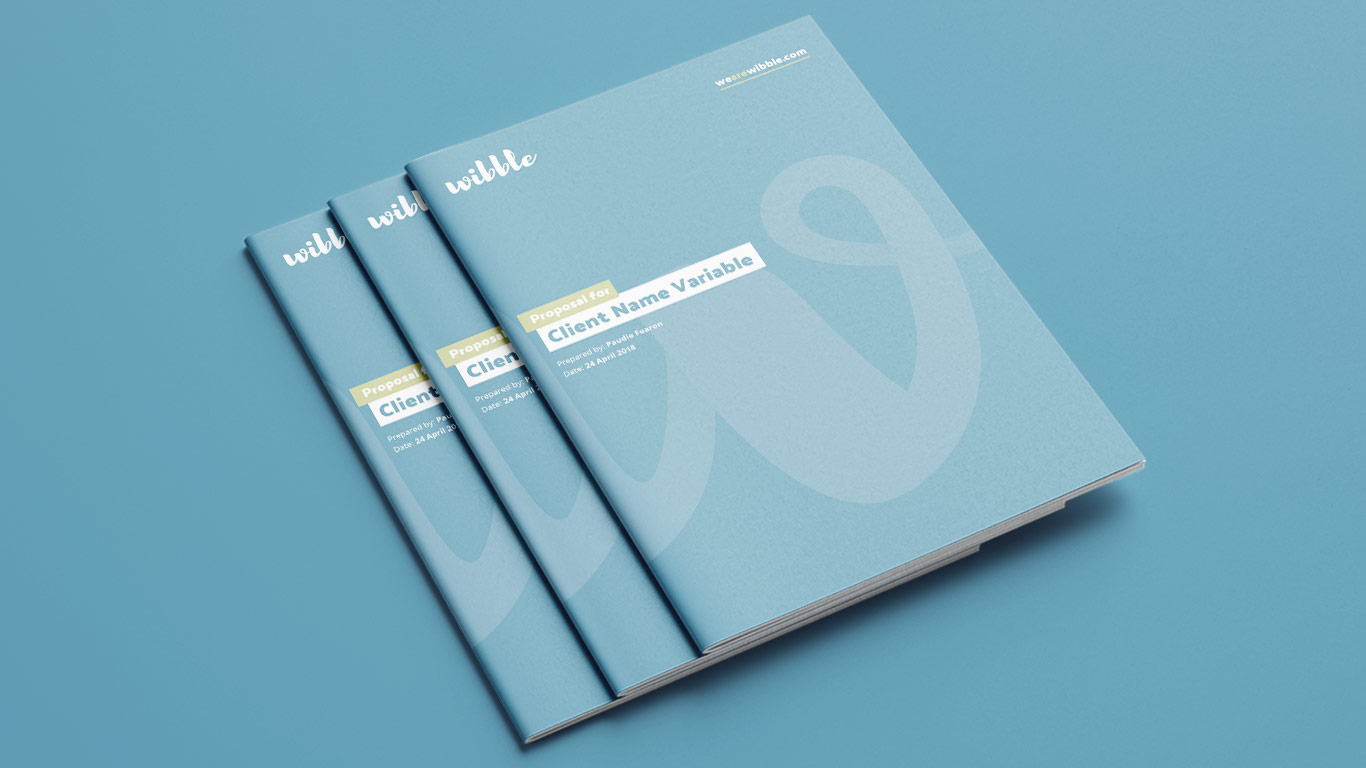 The Proposal document is how we sell our services to a client after our initial meeting. It sets out a plan of action for the project and keeps us and the clients on the same page. It also gives a glimpse into the team at Wibble, Our Work, and Our Services. Basically it is an abridged version of the Website with the latter pages dedicated to the client's specific needs. These needed to be crisp and clear and scream Wibble.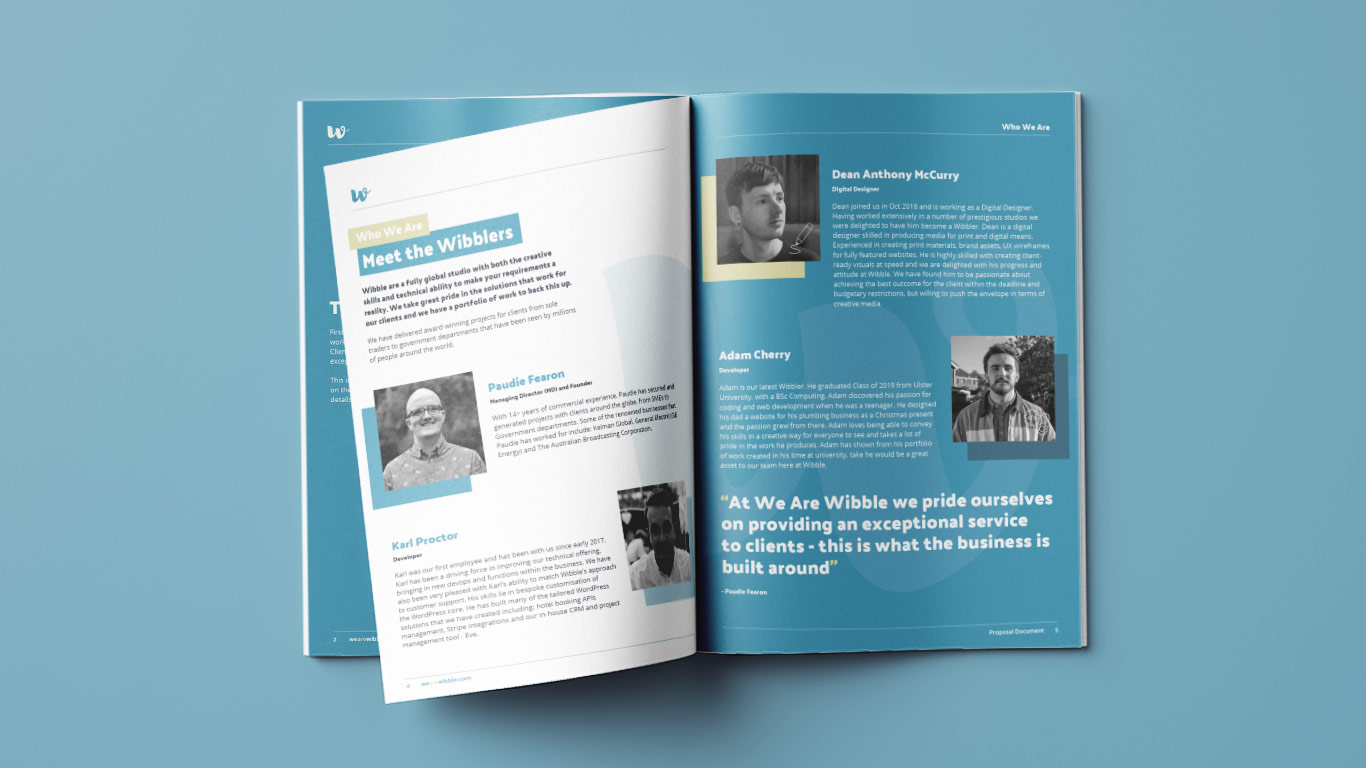 Designs were also updated for the Spec document and all services that need to be expanded on for each client. Consistency is key and because of this no matter what document you get you will know it is Wibble.
The Wibble Rescue Package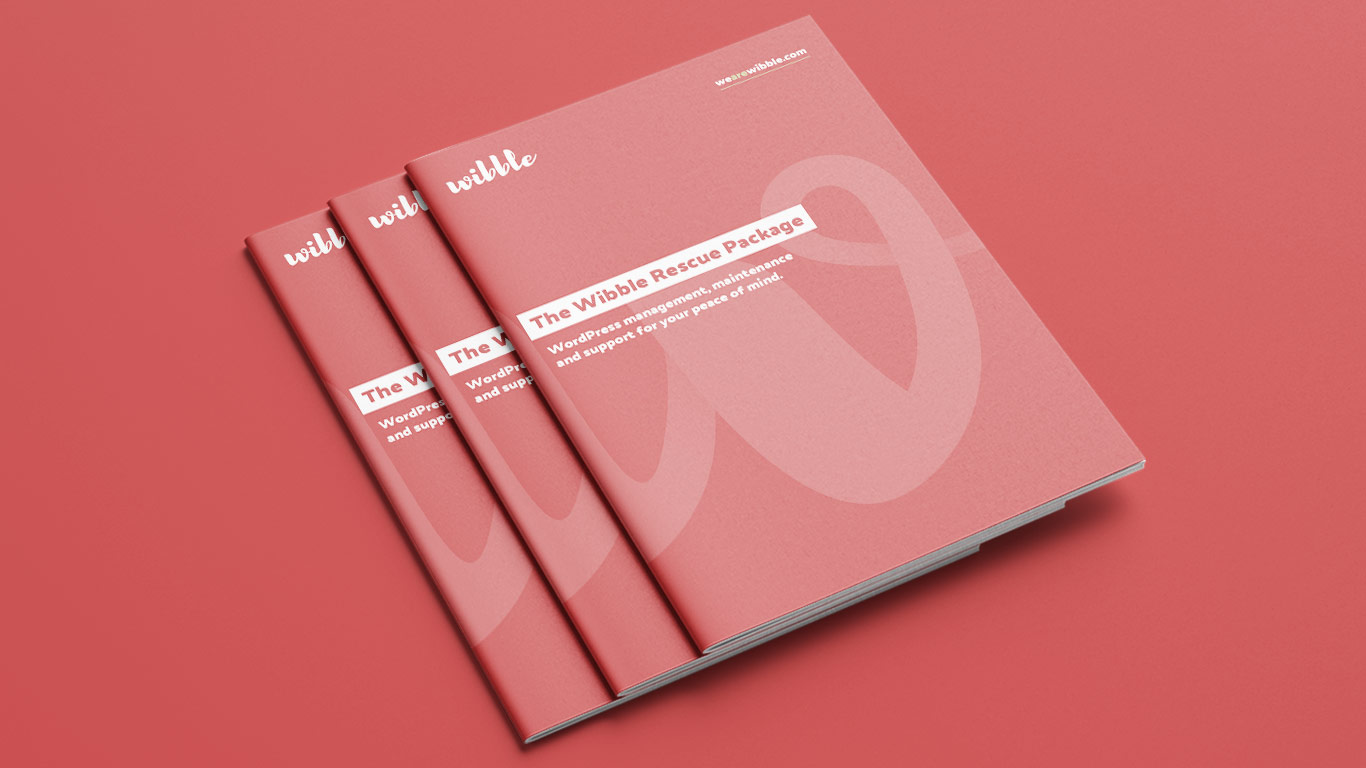 A separate document was created for The Wibble Rescue Package. As well as sporting its fetching candy apple red colour it needed to be separate from our other services as it is unique in what it does, giving a full break down of what can be achieved with the WRP and added information that can't be displayed on the website.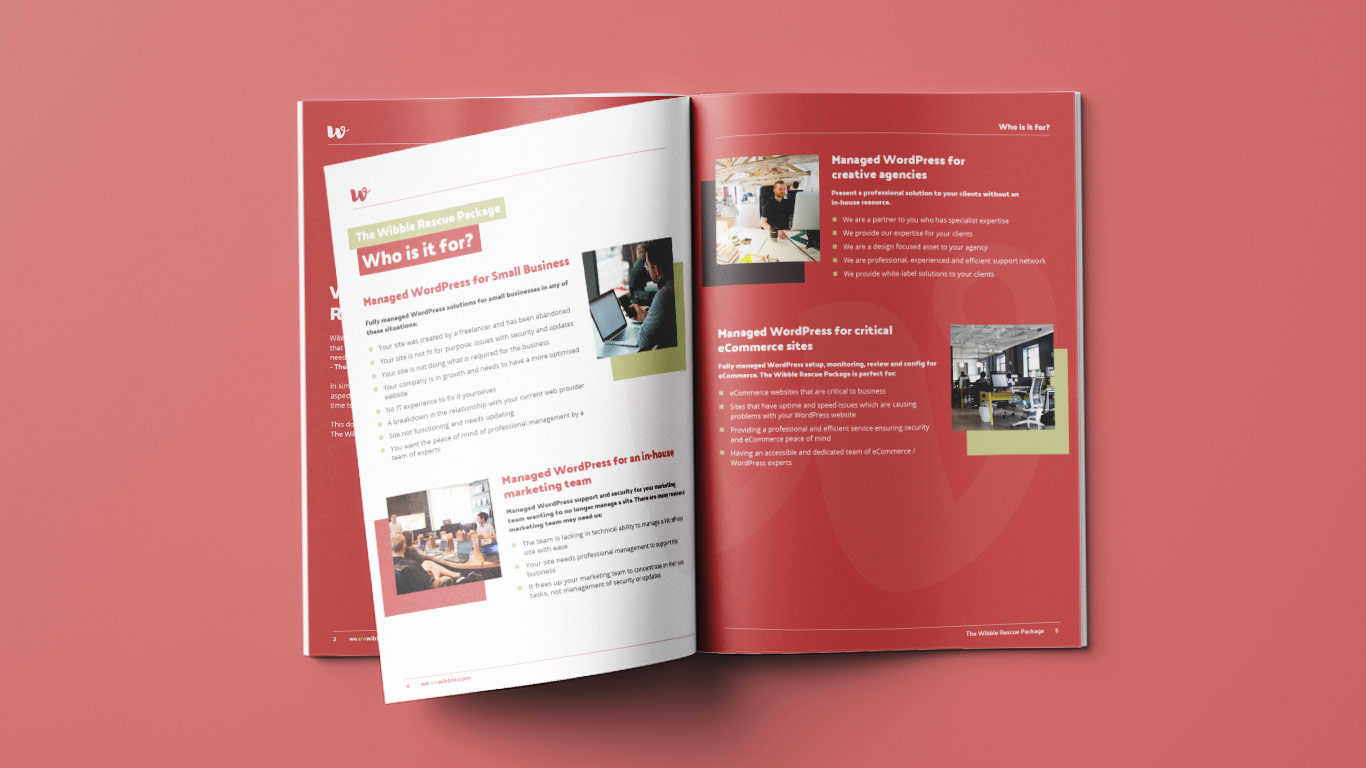 It stands out, but it is still very much a part of the Wibble brand and we couldn't be happier.
The Business Cards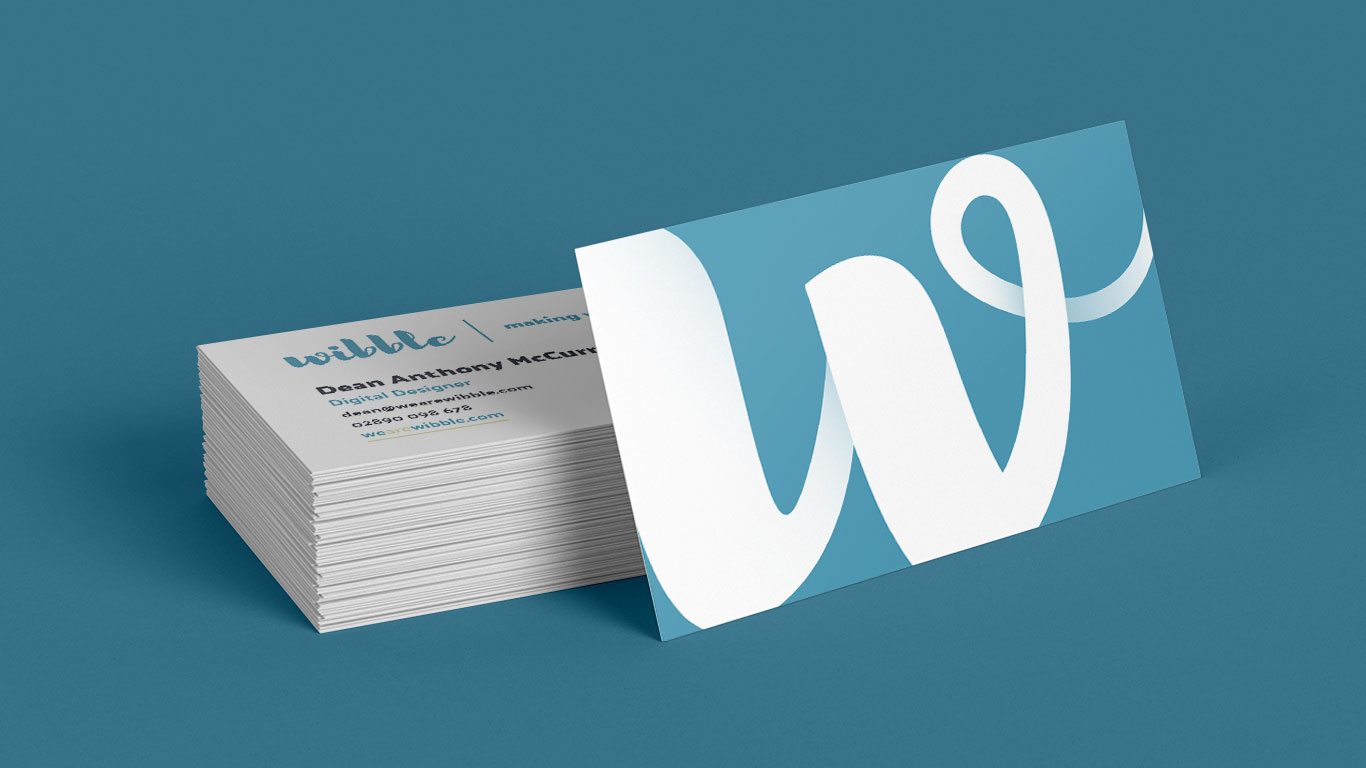 Business cards. Some may say they are outdated but having a beautiful piece of designed stationery to carry with you everywhere can't be too bad. As these were for each Wibbler many designs where debated, discussed and vetoed before arriving at the final design. For such a small piece of card, it was met with a lot of contention, but we prevailed and got beautifully finished business cards. Set on heavy card with a spot UV finish on the front of the card, they were worth the aggro.
Creating a Social media presence
Wibble has always had social media accounts and we have amassed a healthy amount of followers, but there needed to be cohesion between our brand at what we post. We wanted each of our posts to be instantly recognised as Wibble.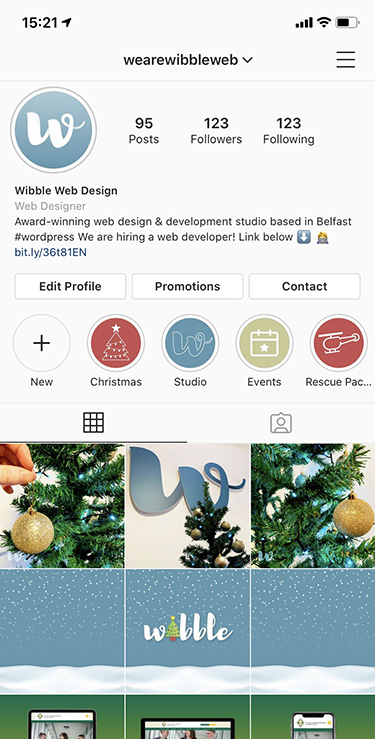 Between Facebook, Twitter, Instagram, and Linkedin new cover photos where designed and the emblem was decided on to be our avatar. Regular posting has also been a priority and with interaction with our followers, we hope to achieve this.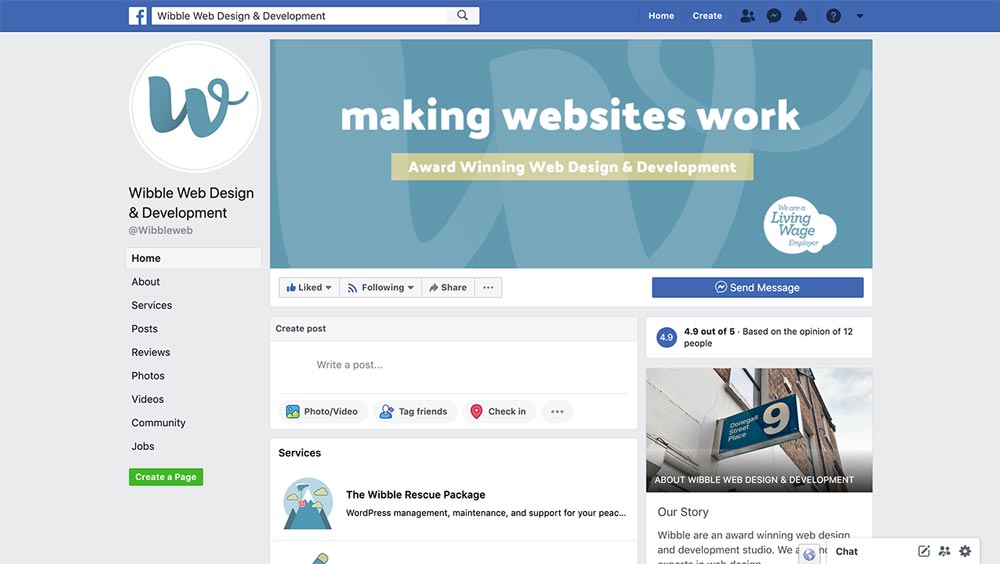 You too can follow us on Instagram, Twitter, Facebook, and Linkedin.
The new office
We have recently moved into our very own premises. You can read all about it here, but before you go keep reading this blog. Thanks
As stated Wibble moved at the end of 2019, its a great new space but it needs a little bit of that Wibble magic. We have some great plans for space so keep an eye on our socials. So far we've added our branding but in the coming months, we will have it screaming WE ARE WIBBLE.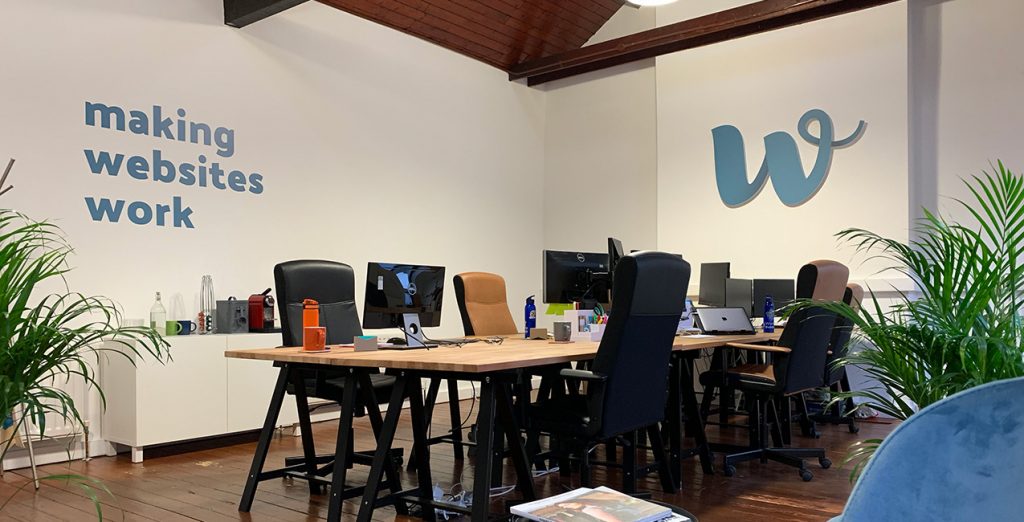 What's next
Now that we have our brand thoroughly refreshed creating new materials for the company shouldn't be an issue. Throughout the plan has been to create a brand that was easily adaptable and cohesive throughout any medium. I think we have achieved that, but like any good company, we are constantly evolving and I believe our brand can evolve with it.
If you enjoyed this blog why not have a look at the other parts of the We Are Wibble Refresh. Part 1: Wibbles Identity & Part 2: The Wibble Website.
---
Share this blog post
Dean Anthony McCurry
More from author
Latest blogs from Dean Anthony