SEO guide: Basic steps to take when posting to WordPress
Improving your website's SEO is crucial to getting more visitors to your website. Many guides that are currently online are very technical or hard to follow. If you are looking for an easy to follow guide for WordPress SEO basics, you are in the right place. In this blog post, Stephen will share the best practices to use with a WordPress site to improve your website SEO and help get more visitors.
Wibble are known for being web design and development experts. Further to these expertise, we pride ourselves on our award winning support services and the below information is to help Wibble clients carry out simple steps themselves to help improve their site in search engine results pages with every post or page they publish.
Search terms in the page title and permalink
When you are posting a new page or post, you give it a descriptive title to introduce what the post or page is about. WordPress automatically generates the address for this. The address is created using the page or post title, with hyphens placed in between the words and non–improtant words removed. If needs be, you can add keywords to the permalink address but usually, they don't need to be changed. Avoid keyword stuffing as this can be viewed negatively by search engines.
On each new post, page or custom post type, WordPress allows you to customise the page URL. Some people include a location in their URLs, if necessary. This can help optimise the website for local searchers along with local clients.


Title tag / meta title tag
Title Tags are a great way to describe what your post or page is about in one short brief sentence. This should be short, original and catchy to attract the targeted audience. The Title Tags are shown in places like SERP (Search Engine Results Page), Social Media and in browsers. As above, keyword stuffing is not recommended in any way.
Industry research has found that Google typically displays the first 50–60 characters of a title tag in their results page.
Wibble would recommend giving each page a unique title and careful curation of this should be an important part of the process of publishing every post or page on your site.
All sites managed by Wibble come with Yoast SEO installed and configured, we have created a blog post on "How to Change Your WordPress Title & Meta Description" which will help with the above task of changing your page title tags.
Meta description
A Meta Description is located below the SERP (see above) which is usually a short paragraph summing up your page. For best results, the meta description should be around 50-160 characters as Google truncates snippets to ~155-160. Please note that, in 2009, Google confirmed that meta description does not come into play in your ranking on SERPs, however, meta description can be a factor in attracting people to click on your page, as opposed to your competitors.
We recommend creating a readable, clear meta description that users can understand at a glance what the page contains. However, a search engine can usually scrape a meta description from your page if you don't create one.
Just as above, as a Wibble client you will have access to Yoast SEO and we have created a Blog post on "How to Change Your WordPress Title & Meta Description".

Alt text
Alt text is short for alternative text, they are also known as alt tags and are used within the HTML code of any post or page to describe the appearance and function of an image.
Throughout your post or page, it is very important to use alt text on all your images. This is because when spiders crawl the internet they can't read images, they read the alt text – this allows for better context for the search engines to index your page. When creating alt text you should be using content that describes the images well.
As Wibble consistently uses WordPress as its CMS of choice, we can easily add alt text when you import or add an image to your page or post. On selecting the image, an image settings box will appear on the right hand side, allowing you to add your alt text to describe that image.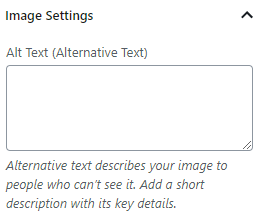 Links from pages on your site
Each time you publish content on your website, you should be placing links on important pages on your site, like your homepage, to your new content. By adding it, this will tell search engines that they need to crawl this link sometime in the future. Search engines will then be able to say that they have an important page that is linking to this and there are some quality signals that can help us determine how to rank it.
Add links from older post or pages
This SEO tip is usually forgotten about, however, you should be going back to your old pages and posts that are relevant and linking to your new content. What pages should you add to? A very easy way to find this out is by using keywords in the Google search using site:example.com. This will allow you to find pages that have similar keywords, therefore, allowing you to add links to these.
An example of this would be "SEO site:wearewibble.com" if I wanted to find SEO keywords in pages on wearewibble.com.
High quality content
As you constantly publish content on your website, you always need to make sure that the content that is being produced is of high quality. This can include spelling & grammar, fresh, unique and valuable content. None of this information is worthwhile if the content on your website isn't of high quality. Plugins like Yoast SEO can grade the quality of each page, post and CPTs.
Wibble recommends
There are many plugins available for WordPress that help with SEO, however, Wibble would recommend that our clients avail of the plugin Yoast SEO that all sites that we design, develop and manage come with by default.
We hope this guide to WordPress SEO: The Basics was useful – check back for more WordPress help and guidance from Wibble. If you need any help or support on your WordPress site, contact Wibble or click the chat button on the bottom corner of the screen. We tag all our SEO posts and these can all be found in the SEO blog section.
Conclusion
SEO improvement is a slow process, but with a proactive approach to content management and following the steps above, you should start to see an improvement. Our advice would be to stick with it, try and learn as much as possible, there are some amazing free resources out there and you should always be trying to improve your skills in this field.
---
Share this blog post
Stephen Matthews
More from author