Recruitment is hard
I committed to more direct communications from me so here we go!
We have recently just completed a recruitment run to bring on a new web developer that we desperately needed as we continue to grow. We brought on Adam as a developer and support agent – we place a huge emphasis on support and I wanted to bring on another resource to support this side of the business.
It was during this I realised just how difficult it is for small businesses to recruit with ease and not blowing the bank. With this post I also wanted to show clearly what it is like to work for Wibble and the transparency we show when recruiting to ensure the person we hire is the right one.
I believe recruiting someone is not just about the employee selling themselves as the right candidate but the company has to to do so too. Being clear and transparent from the outset is a key part of how we recruit.
This blog post may also help potential new Wibblers to see do they want to work here as we are constantly recruiting for web designers, web developers and web support staff.
The ethos at Wibble and how we attract new talent
I know it's a cliché, but we really want someone who gets what we are going for in Wibble. We are a relatively small web studio but we consistently are punching way above our weight and have clients all over the world from sole traders to corporate giants. I want to ensure that anyone looking to work with Wibble is here for the right reasons and are enthusiastic about making Wibble a global name in web design and WordPress development.
Below, I have broken down some of the characteristics of Wibble that I present to potential employees to ensure transparency from us and to present the enviroment that I am trying to create for all who work here.
We don't have the clout and resources (just yet) of the big tech companies in Belfast so we have to attract new Wibblers with an enviroment and a place of work that they will look forward to coming to every day.
It's not all about work
I've worked in some very stressful jobs over the years and brought my work home with me far too many times. I continue to do this as the Managing Director, but this time it's my choice.
One thing that is clear from the start is that you are not expected to answer emails or Slack messages outside of your normal work hours. In the current climate of being always connected, being bombarded with emails at home is not something I want to promote. Sometimes, overtime has to be done and work has to be carried out but this is a very rare occurance and one that I do not encourage.
Support first approach
I have tried to build the entire business around support, not sales. We place far more emphasis on supporting existing clients than persuing new sales. We don't do any specific marketing or have any sales people – all of our work to date has come from word of mouth recommendations from existing clients and a pretty good SEO footing.
We are, therefore, looking for people who are comfortable with building a relationship with clients and helping them grow.
The right person, not the right CV
I am not looking for the best developer or designer in the world, having great skills and no empathy for a client who is stuck or is in trouble is not the type of person I am looking for – yes, we have a hugely talented team here but they also have non-technical skills that we hold with just as much importance.
I'll happily employ someone that doesn't have experience but has tranferrable skills, has a track record of helping people and has the right attitude.
Promoting what Wibblers think
We built a bespoke careers portal inhouse to help with the recruitment of all jobs allowing us to easily manage advertising jobs easily. I really wanted to convey what the existing staff thought of working at Wibble and approached them to participate. I asked them to be honest and was going to put up on the portal whatever they said, good or bad.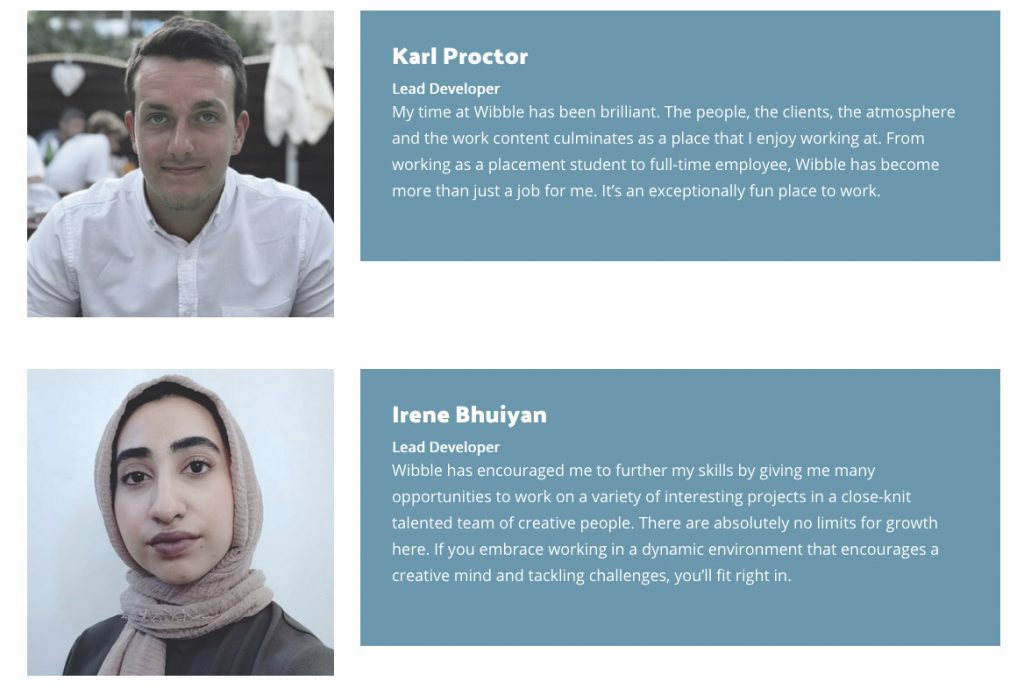 How we promote our jobs
For small businesses, paying a percentage of the salary for a recruitment agency may not be an option – it will hopefully be one for Wibble in the near future but at the minute we manage our own process for this. Below are the resources / checklist that I call upon to advertise jobs that we are trying to fill. Hopefully, this will be of use to other businesses also. It is a little Belfast centric but may be transferrable to wherever your location is.
If you have any others that may be useful to add to this list, get in touch with us or get me directly on Twitter.
Indeed.co.uk
Wibble careers portal
Course directors for IxD Belfast
Course directors for IMD UU
Course direct for iMedia in Belfast Met
TheHub.io
Facebook jobs
All our social media channels
Bizermang Facebook page
Entrepreneur's Facebook page
Belfast Hour on Twitter
Queen's Better Future
UU Careers Connect
Our process for bringing on staff
When I employed my first Wibbler, I didn't realise just how much needs done from simply an admin point of view. Now that we have recruited a number of times the process becomes slicker each time.
We are a very process driven business, everything we do is documented for consistency and speed. Even the onboarding of staff has a process that we apply each time to ensure nothing is missed and time spent is reduced each time – critical to small businesses without a HR department.
We use Asana to manage as many tasks as possible, adding a level of consistency to as much of the business as possible and have an Asana template for bringing on a new member of staff.
In order to help other businesses starting out in recruitment, I have decided to share our Asana process that we use, review and tweak with every Wibbler that we bring on. It is exported as a PDF below.
Conclusion
My conclusion is the title of this post – Recruitment is Hard! Hopefully this post will be a help to people wanting to become Wibblers or other businesses wanting help with how they bring on new members of their team.
---
Share this blog post
Paudie Fearon
More from author